About Us
Robert Kittredge is the owner and Ranch manager for Friend's Stable and Orchard. He grew up in Ojai on this very ranch, and then went on to graduate from Northern Arizona University. While currently not a rider, he grew up around horses and has a working knowledge of their day-to-day care. Robert lives on the property and is always available in case of emergency. He is most often found maintaining the orchard- some of which is over 100 years old.
---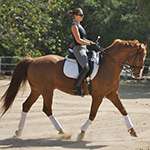 Charlotte Morran is the stable manager and resident trainer for Friend's Stable and Orchard. With over 30 years of horse experience, 20 of those as a professional, she keeps a close watch on the horses. She grew up here in Ojai as a resident Student at Ojai Valley School. From the age of 8 she was learning hands on care of horses. In 2003, Charlotte graduated from the University of Nevada, Reno with a degree in Animal Science with an Emphasis in Equine Science. At the age of 18 she started riding professionally and in 2007, started her own training business (Orchard Blossom Farm) on the property. She now resides on the ranch and is readily available for client needs.
---

Aleta London is the Owner of Friend's Stable and Orchard. She grew up in Ojai, working with her father to help build Friend's Ranches. A graduate of UC Davis, she has owned and cared for horses most of her life. Recently she moved to Bishop, CA, where she lives with her puppy Kip and a variety of horses and mules.